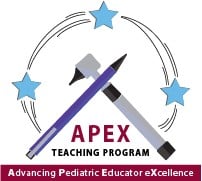 Do you want to improve your teaching skills, but don't necessarily know how?
If so, the APEX Teaching Program is the place for you.
ADVANCING PEDIATRIC EDUCATOR EXCELLENCE TEACHING PROGRAM
APPLICATION PROCESS NOW OPEN!
The application process is now open for the Advancing Pediatric Educator eXcellence (APEX) Teaching Program's cohort scheduled to coincide with the Pediatric Academic Societies (PAS) Conference in 2024 (Toronto, Canada) and 2025 (Honolulu, Hawaii).
This track is being offered to general pediatricians, pediatric subspecialists, and pediatric surgical specialists. We welcome physicians as well as advanced practice providers.
The APEX Teaching Program is a unique longitudinal national program that offers highly interactive learning opportunities and fosters an ongoing exchange of ideas and best practices. Participants will learn new teaching techniques, enhance current skills, and work with a local mentor, along with leaders in the field of pediatric medical education to build a new set of capabilities.
In 2024, the in-person program will be held prior to the PAS conference on:
Friday, May 3rd: 8:00 am – 1:30 pm
Plus, a conference wrap-up session on Sunday, May 5th: 6:00 pm – 7:00 pm
For details on the APEX Teaching Program and to access the application, please visit:
Advan​cing Pediatric Educator E​​xcellence (APEX) Teaching Program
Applications for the APEX Teaching Program PAS 2024-2025 cohort are due November 15th.