Academic Pediatrics is the official journal of the Academic Pediatric Association and is a peer-reviewed publication whose purpose is to strengthen the research and educational base of academic general pediatrics.
The content areas of the journal reflect the interests of Association members and other health professionals who care for children. The journal emphasizes important research relating to the quality of child health care, health care policy, and the organization of child health services. It publishes policy statements, communications from the Board of Directors, and notices of important Committee and Special Interest Group projects in addition to publishing on diverse topics such as:
Abuse
Behavioral pediatrics
Child health services
Emergency medicine
Environment
Health policy
Holistic medicine
Injury
Pediatric education
Members of the APA receive Academic Pediatrics as a membership benefit, including full access to its electronic edition. Only members and subscribers will have access to the journal online.
Health Services Research and Health Equity Associate Editor Search
The Associate Editor for Health Services Research and Health Equity should have an established reputation as an investigator in pediatric health services research with a strong focus on health disparities. Learn more about the opportunity.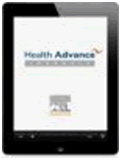 You can now read Academic Pediatrics on your mobile device via APA's Connect App or by downloading Elsevier's HealthAdvance mobile app for your SmartPhone or iPad. Then log in with your registered journal username and password to gain access to full-text articles.

If you have not yet registered click here to follow the two simple steps: register and claim your access. Once you activate your subscription here, you can then use your username and password to log in, and enjoy one-touch, direct access to the Journal from your device!
Click here to download Academic Pediatrics via iTunes
Click here to download Academic Pediatrics via Google Play