In October 2021, APA's Board of Directors, local Region and SIG chairs, discussed the strategic direction of the association and developed the 2023 - 2028 strategic plan.
The 2023-2028 strategic plan identifies 4 substantive goals for ensuring APA's future. The goals are not listed in any order or priority; all are equally important and interrelated.
Strategies indicate how APA will organize, focus and expand its resources to become known as the premier pediatric organization for for career development of academic child health professionals. The goals and strategies will be reviewed annually in order to ensure progress and success.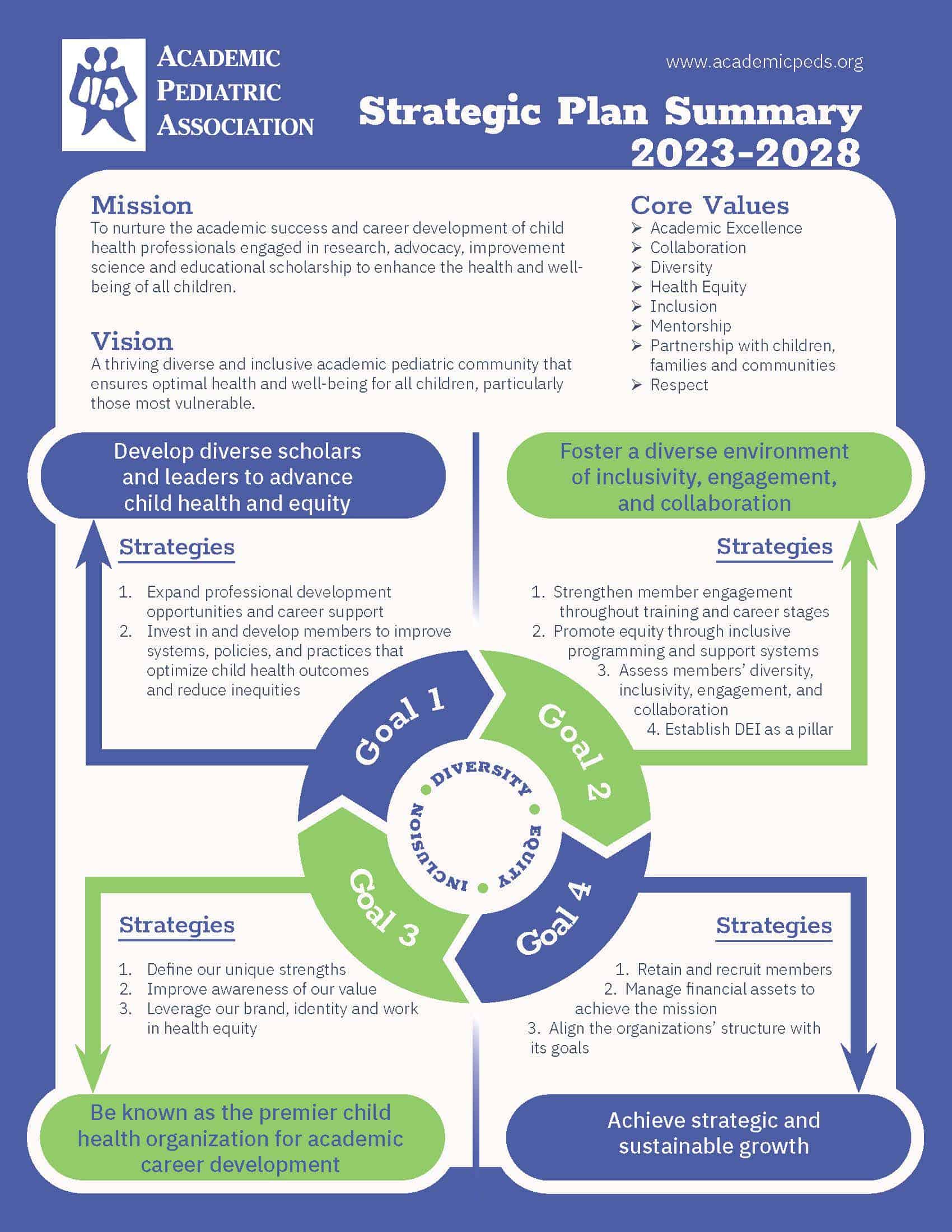 Download the Strategic Plan
Click below to download the 2023 - 2028 Strategic Plan.
Mission
The Academic Pediatric Association nurtures the academic success and career development of child health professionals engaged in research, advocacy, improvement science and educational scholarship to enhance the health and well-being of all children.
Vision
A thriving diverse and inclusive academic pediatric community that ensures optimal health and well-being for all children, particularly those most vulnerable.
Core Values
Academic Excellence
Collaboration
Diversity
Health Equity
Inclusion
Mentorship
Partnership with children, families and communities
Respect
Goals
Goal 1: Develop diverse scholars and leaders to advance child health and equity
Strategies:
Expand professional development opportunities and career support
Invest in and develop members to improve systems, policies, and practices that optimize child health outcomes and reduce inequities
Goal 2: Foster a diverse environment of inclusivity, engagement, and collaboration
Strengthen member engagement throughout training and career stages
Promote equity through inclusive programming and support systems
Assess members' diversity, inclusivity, engagement, and collaboration
Establish DEI as a pillar
Goal 3: Be known as the premier child health organization for academic career development
Strategies:
Define our unique strengths
Improve awareness of our value
Leverage our brand, identify, and work in health equity
Goal 4: Achieve strategic and sustainable growth
Retain and recruit members
Manage financial assets to achieve the mission
Align the organization's structure with its goals